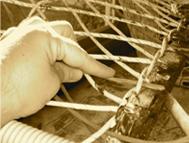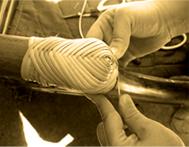 About Us
Jardin Wicker is owned and operated by Jennifer Brunswig and Michelle Moore. With over 40 years of combined experience in wicker restoration, we are experts in the field.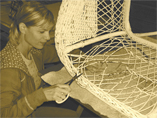 Jennifer Brunswig has been a professional wicker restorer for over 16 years. She has studied color theory and textile design, and has an eye for original antique reproduction.
Michelle Moore has been involved in wicker restoration and antique wicker resale for over 24

years.Hand Cane Repair She was formerly an owner of Moore–Tinay Studio where she repaired and resold antique wicker furnishings to designers, collectors and photo stylists. Her store was featured on sfgate.com and was seen in House Beautiful magazine. Michelle received her BFA from California College of the Arts in 1990.